Don't get caught with improperly marked gear!
If you run jug lines, trot lines, limb lines, traps, sail lines, tip-ups or other similar fishing equipment, chances are you are required by law to properly tag your gear. Freshwater Tags are waterproof, durable and reusable ten times or more. Safe for salt water also!
DURABLE and REUSABLE
Freshwater Tags are made of the same material used for lobster trap tags in the cold and unforgiving waters of the North Atlantic. They will hold up in both fresh and salt water.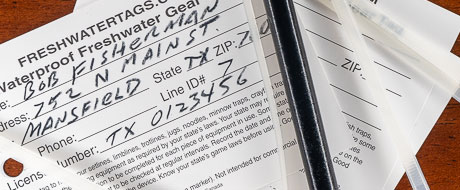 A ziptie is supplied with each tag.
Freshwater tags have ten date/time blanks for documenting when your gear was left out or checked. Game wardens can easily determine ownership and compliance with game laws.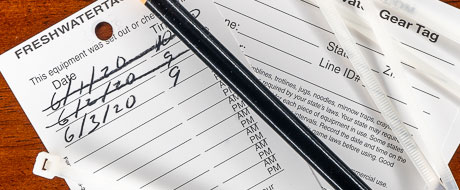 Each order includes waterproof china marker.
Packages
Freshwater Tags are sold in multiples of five.
Each tag includes a ziptie.
Each order includes a china marker.